The Hypocrisy Of The NFL On Sports Betting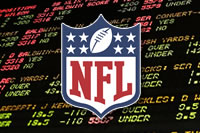 The hypocrisy of the NFL on sports betting has been a hot topic as of late. It began after the NFL announced that the Raiders would be moving to Las Vegas, Nevada, the gambling capital of the United States. Since then, the leagues supposed anti-sports betting agenda has been called into question quite a bit. The most recent example coming after a Deadspin article was released, detailing New England Patriots owner Robert Kraft's involvement in the sports gambling industry.
Robert Kraft's Casino Ties
New England Patriots owner Robert Kraft was interviewed by Deadspin columnist, Bart Hubbuch, and Kraft told him that he is on the board at Apollo Global Management, which is an investment company that owns a controlling interest of all Caesars Palace casinos. Apollo is a private-equity firm in Manhattan and Kraft has been on the board of directors for three years now. They are partners with another private-equity company, TPG Capital, and they own a controlling 60% of all Caesars Entertainment.
While Apollo has agreed to forfeit a large portion of their stake after a bankruptcy scare, they will still own 16% of the investment. They also have what they describe as a "significant" investment stake in a British gambling site called Ladbrokes, as well as one of the biggest slot machine manufacturers in the country, American Gaming Systems.
Robert Kraft has been openly supportive of daily fantasy sports site DrafKings, and now with his investments in the biggest casino company in the country, it's clear that some of the biggest figureheads in the NFL don't even agree with Goodell and companies stance on the issue.
The NFL On Sports Gambling
All professional sports leagues have rules in relation to gambling and after diving into those rules, Robert Kraft may have just admitted to breaking those rules. While NFL personnel are allowed to own interests in publicly-traded businesses that are involved in gambling operations but that NFL employee can't own more than 5% of that company and they also cannot be an "officer" or a "director" of the company.
Well, Robert Kraft admitted to being on the board of "directors" at Apollo, who makes money from offering gambling services. That being said, does it really matter that Kraft has an interest in casino gambling that provides sports betting opportunities? No, but it's just worth noting that probably the most recognizable NFL owner in the league, doesn't share the same views as league officials themselves.
Check back with SportsBettinginVirginia.com for the latest news about hypocrisy in the NFL on sports betting.